You got some 'Splaining to Do....
I found an interesting article from the LA Times (
http://www.latimes.com/news/nationworld/nation/wire/sns-ap-katrina-response,1,3041667.story?coll=sns-ap-nation-headlines
)
In it I found an interesting excerpt:
"
After Hurricane Georges barely missed New Orleans in 1998, there was talk of using city buses to evacuate New Orleans residents without cars. But apparently, that proposal

never developed into an executable plan
. "
New Orleans Mayor Ray Nagin ia quoted as saying"I need reinforcements, I need troops, man.
I need 500 buses
, man.... This is a national disaster."
Then I came across this photo from the AP newswire:
An aerial view of flooded school buses in a lot, Thursday, Sept. 1, 2005, in New Orleans, LA. The flood is a result of Hurricane Katrina that passed through the area last Monday.(AP Photo/Phil Coale)
http://news.yahoo.com/news?tmpl=story&u=/050901/480/flpc21109012015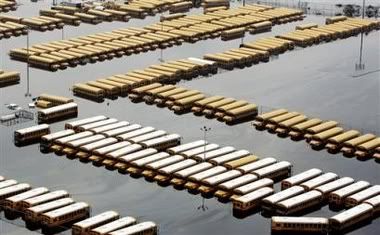 Mayor Nagin, you had the buses for evacuation. You got some 'splaining to do.