Did You Hear What They Said?
Welcome back, True Believers!
That's right, it's time for another rousing edition of: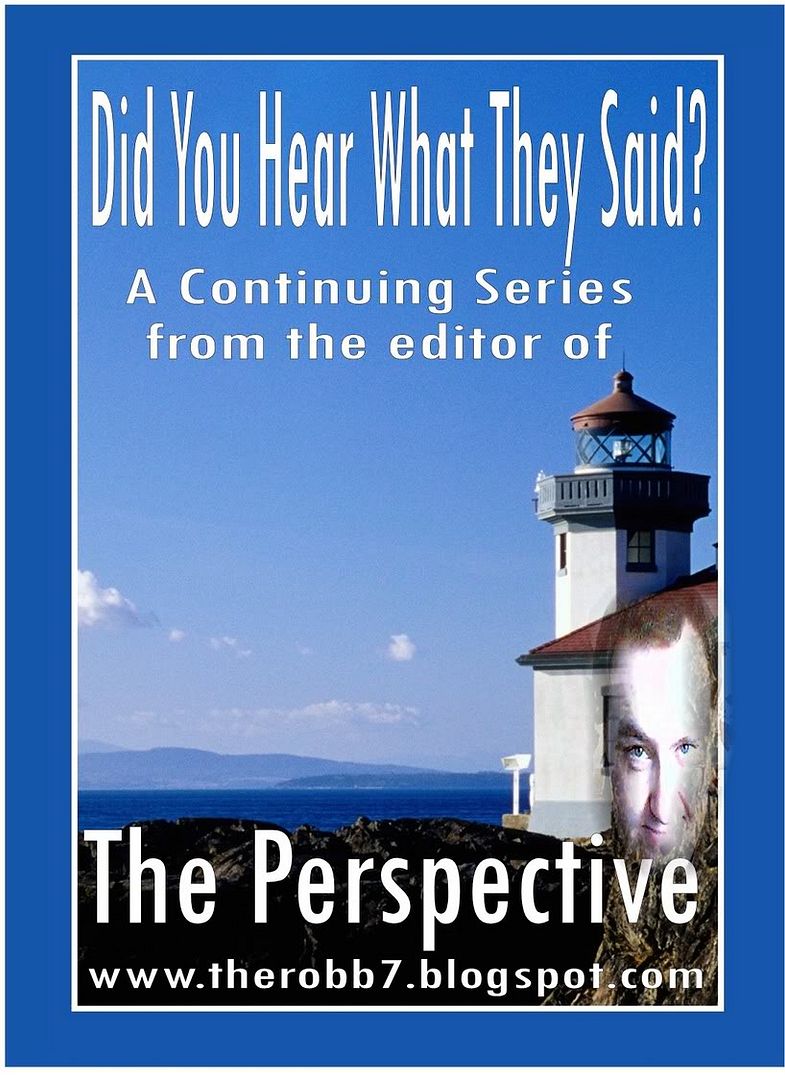 Remember, it's not a smear tactic.....they actually said it!
LIBERTY
"Guard with jealous attention the public liberty. Suspect every one who approaches that jewel. Unfortunately, nothing will preserve it but downright force. Whenever you give up that force, you are inevitably ruined."
—Patrick Henry
"A free people claim their rights as derived from the laws of
nature, and not as the gift of their chief magistrate."
-- Thomas Jefferson (Rights of British America, 1774)
IRAQ

"Aren't the Democrats, though, trying to have it both ways? They voted for the war—Hillary Clinton, John Kerry, John Edwards—and now, it's not going well. So they're saying, well, the president misled us. They had access to the National Intelligence Estimate, and in that National Intelligence Estimate, there were
caveats from the State Department particularly, about the quality of the intelligence.
But they still voted for the war
." —Tim Russert
"I say that the fight against Americans began with Abu Ghraib. It began with the invasion of Iraq. That's when terrorism started."--Rep. John Murtha (D) Pennsylvania
(And what was 9/11??)
"I wonder whether the Senate chamber itself should not be renamed the Abu Musab al-Zarqawi United States Senate. With increasingly rare exceptions, just about everything that emerges from the chamber tends to support
the Zarqawi view of Iraq -- that t
his is a psychological war in which the Great Satan is an effete wimp who can be worn down and chased back to his La-Z-Boy recliner in Florida
."-Mark Steyn
"Democrats like to make antiwar noises for their moonbat base, but were unwilling to cast a vote that could hurt them with swing voters. They were too cowardly to be forthright cowards."--Jack Kelly
"President Clinton kept us out of war and recognized that one cannot attack a foreign dictator simply because the West's intelligence agencies say he has weapons of mass destruction. What if he does not? What if his thwarting of United Nations resolutions and his tauntings are simply empty macho boasts?
Mr. Clinton's policy was to wait and see what the French do
." —Emmett Tyrrell
POLITICS

"If you think that Uncle Sam feeds you while Big Business is trying to milk you dry, you're a Democrat. If you think that God feeds you, with a little help from a job through Big Business, while Uncle Sam is milking you dry, you're a Republican." —Jay Homnick
FAITH IN GOD
"It is the duty of all men in society, publicly, and at stated
seasons, to worship the SUPREME BEING, the great Creator
and Preserver of the universe. And no subject shall be hurt,
molested, or restrained, in his person, liberty, or estate, for
worshipping GOD in the manner most agreeable to the dictates of
his own conscience; or for his religious profession or sentiments;
provided he doth not disturb the public peace, or obstruct others
in their religious worship."
-- John Adams (Thoughts on Government, 1776)
"It is the duty of all Nations to acknowledge the providence of
Almighty God, to obey his will, to be grateful for his benefits,
and humbly to implore his protection and favors."
-- George Washington (Thanksgiving Proclamation, 3 October 1789)
Reference: George Washington: A Collection, W.B. Allen, ed. (543)
"Before any man can be considered as a member of Civil Society, he must be considered as a subject of the Governor of the Universe."
-- James Madison (A Memorial and Remonstrance, 1785)
SOCIETY

"Work, not welfare, is the key to social integration. Making excuses for violence begets more violence." —Jack Kelly
"Government subsidization and protection of irresponsible behavior has gotten blacks into the social black hole in which they now find themselves.
Black kids are not suffering because they need more rights. They are suffering because they are not learning, from an early age, about responsibilities and consequences
." —Star Parker
"A consortium of colleges is suing the federal government right now because they object only to the requirement that military recruiters be admitted to their campuses as a condition of receiving federal aid. Already these colleges are abiding thousands of pages of regulation. They object to this specific one. Perhaps they have forgotten that
Article I, Section 8 of the Constitution—which enumerates the powers of Congress—mentions defense eight times. Education is not mentioned at all
." —Larry Arnn
"The law must hold at least some people responsible for their decisions—otherwise, how can fast-food or tobacco companies be blamed for selling their products?
Why is a big corporation responsible for its decisions but an individual not responsible for his
?"--John Stossel
"France always thought it had one last resort, one ready strategy for fending off the rage of its Arab street: beyond avoidance lay appeasement. No country in the West has done more to cultivate world Arab opinion, to appease Arab terrorists, to ostentatiously oppose American Middle East policy (Iraq above all), to champion the signal Arab cause of Palestine. It was no accident that Yasser Arafat chose Paris as his place to die—Paris, after Jerusalem, his second holiest city. Paris burns anyway.
As the French seem to learn every 70 years, appeasement does not work. It merely whets the appetite
."
—Charles Krauthammer
"Liberals stoutly maintain that a woman has a privacy right to kill her unborn child, that pornographers have a right to broadcast the most nauseating filth, that scummy traitors have a right to spit on the flag, that adults have a right to have sex with adolescents, and that two men or two women have a right
to marry—but two individuals who gave a child life, who fed, clothed, sheltered and nurtured that child, have no right (constitutional or historical, explicit or implied) to control when, where and in what way they will be exposed to sex. And they wonder why, for normal people, 'liberalism' has become a dirty word."
—Don Feder
MULTIPLE CHOICE
Who said the following?
"We do not need more intellectual power, we need more moral power. We do not need more knowledge, we need more character. We do not need more government, we need more culture. We do not need more law, we need more religion. We do not need more of the things that are seen, we need more of the things that are unseen. If the foundation be firm, the foundation will stand." —
A) John Kennedy
B) Calvin Coolidge
C) Jesse Helms
D) Ronald Reagan
Scroll down for the answer (
no cheating
!)
.
.
.
.
.
.
.
.
.
.
.
.
.
.
.
.
.
.
.
.
.
.
.
.
.
.
.
.
.
.
.
.
.
.
.
.
.
.
.
.
.
.
.
.
.
.
.
B) Calvin Coolidge
Have a great day!